Transport and Logistics...
a family affair!
Beginning of the OLANO transports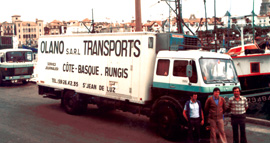 In 1975, Nicolas Olano, founder of the Group, had just obtained his fully self-funded certificate of professional competence and bought his first second hand truck.
During those first 5 years, he created "seafood routes" (from the port of Saint-Jean-de-Luz bound Rungis, Boulogne and Sète) and experienced the harsh reality of making business. The "MAGIRUS" travelled 230,000 km per year and, at that time, trailers were bulk-loaded with up to 20 tonnes of goods.
Establishment in the Jalday area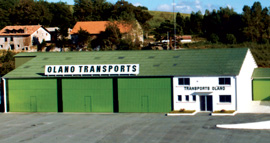 A significant change happens in 1980, when the company moves to the Jalday industrial area in Saint-Jean-de-Luz with 50 m² of offices, 800 m² of workshops and 500 m³ of cold storage.
The fleet then consists of 5 trailer trucks. In Aquitaine, a new consumption habit is being discovered: frozen food.
Until 1988, the company experiences strong growth of 30 to 50% per annum.
The growth continues in the areas of seafood transport, frozen food transport and storage, hanged meat transport and fruits and vegetables transport.
Alliances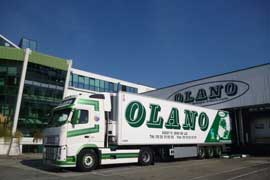 Our strong communication, both internally and externally, made us quickly understand our customers' needs and allowed us to offer our logistics (a real "toolbox" made available to them) thanks to the external growth we have experienced from 1988 to 1995.
Our culture has thus been enriched in contact with major Groups in the profession.
In 1993, with the Grand European Market opening, our international logistics development phase began (Spain, Morocco, ...).
Constitution of the OLANO Group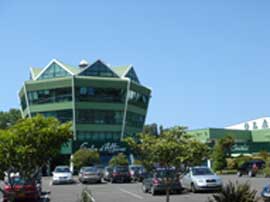 In 1992, the group's family-owned management and holding company OLANO Services was created. Its constitution allowed us to implement the atypical concept of our Group. A few years later, Sandra and Jean-Michel joined the company. It is the beginning of a shared reflection and effort. The holding company is structured and the key positions of the entire organisation are set up.
Globalisation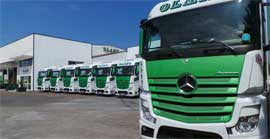 Pursuing its entrepreneurial drive, the OLANO Group is opening up to a world on the move, close to its Latin culture.
This is especially true since the globalizing purchasing very understandably led the Group to be present in areas of production: Southern Europe - Morocco - South America... being positioned both upstream and downstream of fast-developing international exchanges, which requires proven experience in logistics management.
OLANO as a sustainable and qualitative approach, well highlighted by the signing of the ADEME charter aiming at CO2 emissions reduction in 2010 and our commitment to meet the IFS Logistics standard in 2011.
The OLANO Group celebrates its 40th anniversary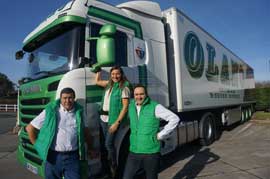 40-year-old: what a wonderful age!
Our Group now has a more cohesive organisation, with governance under two poles: Economy & Management and Production & Development, which allows us to better meet our customers' expectations.
The OLANO group shows a firm structured and modern-like image, that of an enduring company moving towards the future with equanimity.
Better structured for the upcoming years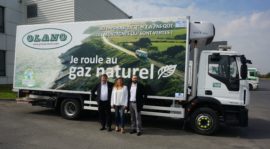 Our group is one of the main European actors, which is why we need to structure ourselves and prepare for strong development between 2017 and 2019, with a target of €400M.
Opening of the MADISON SAINT JEAN DE LUZ**** hotel
The OLANO Family has taken up the challenge of renovating a historic building in Saint-Jean-de-Luz! The MADISON SAINT JEAN DE LUZ hotel is now a 4-star hotel with 32 rooms and suites; suitable for both business and family trips. Just a few steps away from the beach, come and discover the spirit of Saint-Jean-de-Luz!
New Group headquarters in Saint-Jean-de-Luz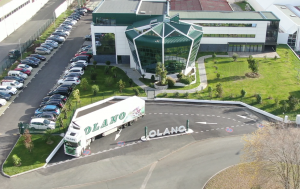 Willing to bring together the headquarters' teams under a same roof, we created a new living and working space. Designed to meet the well-being of our employees, the building stretches over a 3000 m² open spaces and fully equipped co-working areas!
New trucks communication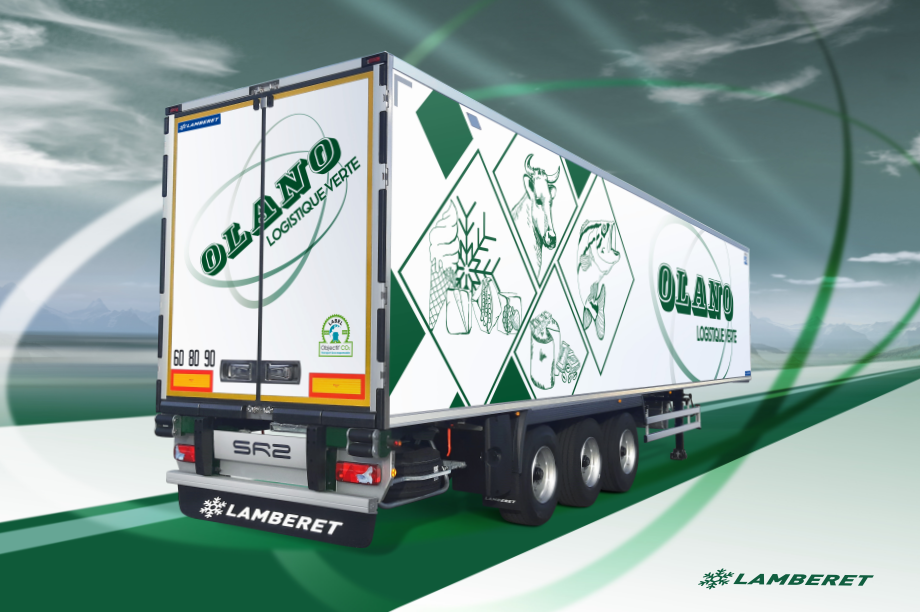 A brand new corporate communication on our fleet.
Our logo and communication evolve and upgrade, to fly our Group's flags and highlight our product branches, in order to be closest to our clients.
Reducing our environmental impact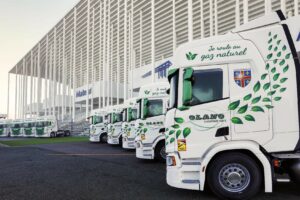 The reception of our 10 first liquefied natural gas tractors marks an important shift in our Groupe and complete the truck fleet of 4 of our platforms.
Structuring the Group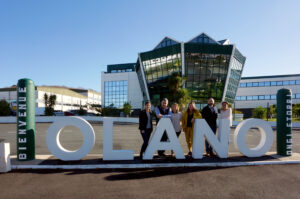 An expanded
and committed governance in anticipation of our 2025 objectives.
Off to the future